AAUW of MISSOURI in 2021-2022 seeks to
-Champion equal access in education, emphasizing STEM.
-Ensure education at every level is free from sex discrimination.
-Bolster inclusive career pathways for women in skills and training.
-Expand number of women in leadership, particularly in STEM.
-Promote women's economic security.
LEARN MORE ..
Come join AAUW and the League of Women Voters in:
The Unveiling of the Historical Site marker for The "Golden Lane" – the 1916 suffragists silent march along Locust Street, St. Louis, as part of the "Votes for Women Trail " project
When: July 3rd at 2:00pm
Where: Schlafly Tap Room, 2100 Locust, St. Louis, 63103
Fun Facts
–July 3 was chosen as the date because that is when the State of Missouri adopted the 19th Amendment granting women the vote on July 3, 1919.
–The Schlafly Tap Room at 2100 Locust is one of the buildings where the women in the Golden Lane March stood.
Program of Events
–Tom Schlafly will warmly welcome us for the unveiling.
–Cynthia Holmes will offer installation remarks.
–A celebration of women suffragists past and present will follow.
What to Wear and How to Get There!
–Wear your suffragists' white and gold!!
–If you want to car-pool, let Pat Shores know that you are coming and she will work out something.
–There is plenty of on street nearby parking if you are driving yourself.
See more background information on the Votes for Women Trail and the Pomeroy Marker project.
Here's a link to a video on the Golden Lane March too – https://m.facebook.com/watch/?v=908170406499285&_rdr
========================================================================
The  STAR AWARD and BRANCH ACTION PLAN form  to plan and report your branch's successful year and earn up to 10 MO stars, one for each of the ten focus areas. All successes (large and small, few and many) are important for achieving AAUW's mission. 
                                                  Inclusion & Equity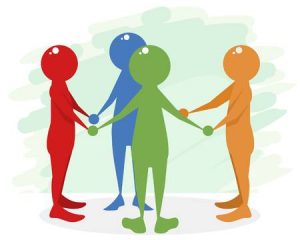 AAUW seeks to guarantee inclusiveness, equity, individual rights, and social justice for a diverse society. Click this link to learn more about our Missouri Inclusion & Equity Committee.
---

Women typically are paid 80 percent of what men are paid. Take the AAUW's free Work Smart online workshop to learn how to negotiate for more.
---
JOIN US!
Visit and then join a branch to participate in the activities that are "breaking through barriers for women and girls!"
AAUW Mission: To advance gender equity for women and girls through research, education, and advocacy.
AAUW Vision: Equity for all.
AAUW Values: Nonpartisan. Fact-based. Integrity. Inclusion and intersectionality.

When women vote we change the conversation. AAUW has a long history of holding legislators accountable for how they vote on AAUW priority issues. AAUW is nonpartisan. We do not support any candidate or party, but we do follow the issues important to women and girls and families. Become an AAUW "Two-Minute-Activist".
………………………………………………………………………….
View/download newsletters from our branches on the branch locator page.
Download an issue of the state newsletter, Missouri in Motion.
Visit the Branches—Forms for branches pages to get applications and information for your branch to apply for grants and awards.
Visit our photo gallery to see a report and pictures of past conventions and events