AAUW MO 2021 Annual State Meeting via Zoom
Saturday, May 1, 2021
"What Stands Bef
ore Us"
As National Youth Poet Laureate Amanda Gorman recited on January 20,
And so we lift our gazes not to what stands between us,/but what stands before us.—Amanda Gorman, "The Hill We Climb"
Join AAUW Missouri members for our annual meeting as we celebrate our achievements in spite of all the challenges of 2020 and look to the opportunities that stand ahead of us in 2021.
Our keynote speaker will be National Board Member Jeanie Latz of Kansas City, who will address AAUW issues and Public Policy priorities to be voted on this year. AAUW prides itself on its priorities being member driven. Voting is your chance to have a voice in setting these priorities.
Jeanie Latz served as executive vice president, chief legal officer, and corporate secretary  of Great Plains Energy and currently teaches in the Bloch School of Management at the University of Missouri–Kansas City. She also consults in the areas of corporate governance and strategy. She received a B.S. degree in Business Education from Missouri State University and a J.D.  from the University of Missouri.
After election of officers, we'll celebrate our own successes with Missouri Star Awards, AAUW Fund awards, Legacy Circle, the Woman of Distinction award, and the Outstanding Member recognition.
A Zoom link will be sent closer to the date. Members will be able to phone in if they do not have Zoom. There will be no registration fee this year, but registration is preferred. Get registration form here.
Schedule
9:30 a.m. Welcome by Sue Shineman, AAUW MO President
9:45 a.m. Guest speaker Jeanie Latz, AAUW Board Member, "AAUW Issues Before Us"
10:15 a.m. Election and installation of officers, awards
11:15 a.m. Announcements and adjournment
Continuing the Celebration!
Click the Centennial Resources menu above for links, photos, and resources related to the continuing celebration of the 19th Amendment.

August 26, 2020, was the 100th Anniversary of the certification of the 19th Amendment. After 60 years of organizing, meeting, protesting, lobbying, and marching, women in every state were officially granted the legal right to vote. Of course, it took almost four more decades for women of color to be able to fully exercise that right. Hundredth Anniversary programs, proclamations, websites, and celebrations were planned across the nation, but many public events had to be cancelled due to COVID-19. The Kirkwood-Webster Groves AAUW branch designed a celebratory sign in the colors of the U.S. suffragist movement. This is NOT a political project, and this is NOT a partisan effort. The sign is generic and has no display expiration date. A few signs are still available for sale. Contact the branch for more information.
---
Proclamations Acknowledging the
Centennial of the 19th Amendment
City proclamations are part of the ongoing work of the State Centennial Committee & branches all over the State. Great job! Read proclamation language by clicking here.
Click on a photo to get a better view of it.
Pat Shores, Sage Taber, and Jan Horner, and Bob Nation, who is Mayor of Chesterfield in St. Louis County.

Lynne Roney poses with the Mayor of the City of Clayton, St. Louis County, the Honorable Michelle Harris.

AAUW's Pat Shores and Janet Scott; Mayor of the City of St. Louis Lyda Krewson; from the League of Women Voters Nancy Miller, Louise Wilkerson, and Jean Dugan.
In the photo of the Kirkwood City Council, you can't miss the Kirkwood-Webster branch's yard sign being used as a virtual background by Council Member Wallace Ward! Proclamation is being read into the record by the Council.
Sage Taber, Pat Shores, and Jan Horner show off the latest proclamation bestowed by (you guessed it!) the City of Ballwin in St. Louis County.
---
Inclusion & Equity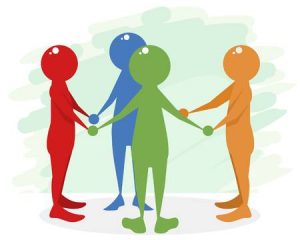 AAUW seeks to guarantee inclusiveness, equity, individual rights, and social justice for a diverse society. Click this link to learn more about our Missouri Inclusion & Equity Committee.
---
Women typically are paid 80 percent of what men are paid. Use AAUW's free Work Smart online workshop to learn how to ask for more.
---
JOIN US!
Visit and then join a branch to participate in the activities that are "breaking through barriers for women and girls!"
AAUW Mission: To advance gender equity for women and girls through research, education, and advocacy.
AAUW Vision: Equity for all.
AAUW Values: Nonpartisan. Fact-based. Integrity. Inclusion and intersectionality.

When women vote we change the conversation. AAUW has a long history of holding legislators accountable for how they vote on AAUW priority issues. AAUW is nonpartisan. We do not support any candidate or party, but we do follow the issues important to women and girls and families. Click on the "advocate" tab for important information.
………………………………………………………………………….
View/download newsletters from our branches on the branch locator page.
Download an issue of the state newsletter, Missouri in Motion.
Visit the Branches—Forms for branches pages to get applications and information for your branch to apply for grants and awards.
Visit our photo gallery to see a report and pictures of past conventions and events