---
Plant a Yard Sign for Women!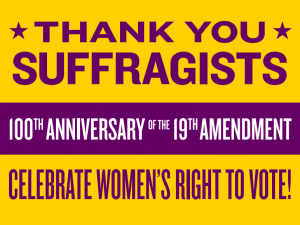 August 26, 2020, is the 100th Anniversary of the certification of the 19th Amendment. After 60 years of organizing, meeting, protesting, lobbying, and marching, women in every state were officially granted the legal right to vote. Of course, it took almost four more decades for women of color to be able to fully exercise that right. 100th Anniversary programs, proclamations, websites, and celebrations were planned across the nation, but many public events had to be cancelled due to COVID-19.
Kirkwood–Webster Groves AAUW wants to shout it to our neighbors, and we invite your organization to join us! Our project, Plant a Yard Sign for Women, thanks the suffragists and is a subtle reminder that women have not always had a voice in local, state, and national government.
The Kirkwood-Webster branch has designed a celebratory sign in the colors of the U.S. suffragist movement and are printing 500 signs that we hope members of women's organizations will also want to purchase and display in their yard, window, community centers, or meetings. This is NOT a political project, and this is NOT a partisan effort. The sign is generic and has no display expiration date. Our branch is purchasing signs for our members; your organization may choose to do the same or purchase signs and resell them. We will coordinate the orders and distribution of the signs as well as publicity for the sign blitz. Contact us for more information or download and send in the order form.
Let's celebrate our right to vote and show the St. Louis area how important this is to St. Louis women! Wouldn't it be fabulous to see signs all over the area celebrating women and the vote!
---
Proclamation Acknowledging the Centennial of the 19th Amendment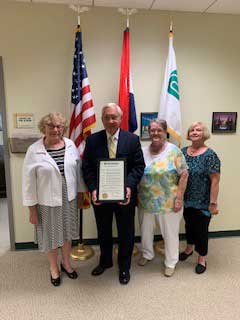 Pat Shores (who applied for the proclamation to the Mayor's Office), Sage Taber, and Jan Horner received the signed proclamation from Bob Nation, Mayor of Chesterfield in St. Louis County. Read the proclamation language by clicking here. City proclamations are part of the ongoing work of the State Centennial Committee. Great job!
---
Inclusion & Equity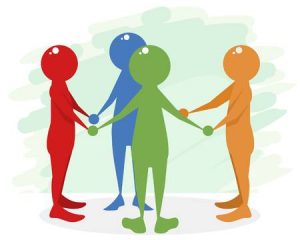 AAUW seeks to guarantee inclusiveness, equity, individual rights, and social justice for a diverse society. Click this link to learn more about our Missouri Inclusion & Equity Committee.
---
Women's Equality Coalition Events
Wednesday, August 26 at 10:30 am. Join us for a video re-broadcast by clicking on the link below: https://www.mainstreamcoalition.org/wew2020
Continuing the Conversation: Voting Rights & Voting Suppression
Panel Discussion Moderated by Michael Poppa Mainstream Coalition,
Linnaia McKenzie, President and Co-Founder, Advocacy and Awareness Group of Johnson County; Nigel Morton, Kansas State Organizer at URGE; Melissa Stiehler, Citizen Participation Field Organizer, ACLU of Kansas.
---
Women typically are paid 80 percent of what men are paid. Use AAUW's free Work Smart online workshop to learn how to ask for more.
---
JOIN US!
Visit and then join a branch to participate in the activities that are "breaking through barriers for women and girls!"
AAUW Mission: To advance gender equity for women and girls through research, education, and advocacy.
AAUW Vision: Equity for all.
AAUW Values: Nonpartisan. Fact-based. Integrity. Inclusion and intersectionality.

When women vote we change the conversation. AAUW has a long history of holding legislators accountable for how they vote on AAUW priority issues. AAUW is nonpartisan. We do not support any candidate or party, but we do follow the issues important to women and girls and families. Click on the "advocate" tab for important information.
NEWS ABOUT PAY EQUITY IN MISSOURI!
AAUW and the Women's Foundation are working together in Kansas City to train 1 million women in salary negotiation! Read the news release about the Work Smart program.
………………………………………………………………………….
View/download newsletters from our branches on the branch locator page.
Download an issue of the state newsletter, Missouri in Motion.
Visit the Branches—Forms for branches pages to get applications and information for your branch to apply for grants and awards.
Visit our photo gallery to see a report and pictures of past conventions and events