---
The August 4 election is A BIG ONE! Voter registration deadline for this election is July 8.
Register in any public library. THIS IS THE MEDICARE EXPANSION VOTE & primary election.
Want to vote by mail? Here's how:
For the primary election on August 4. You must request an application ASAP  –  go to https://www.sos.mo.gov
1) Click on publications and forms
2) Click on SOS forms
3) Click on elections
4) Click on request for MO absentee or mail in ballot
5) Print, complete, and sign your name as it is on your voter registration card
6) Place in a stamped envelope and address it to:
Kansas City Election Board, 30 W Pershing #2800, KC, MO 64108
Mail it on or before July 16 so it will arrive in the KC election board office by July 22 – OR – take it to the KC Election Board office in the basement of Union Station 8-5 M-F.
If you live in Platte, Clay, or outside KC in Jackson  –  mail to your election board.
When you receive your absentee ballot, vote and return it to KC Election Board at the same address as above (or Union Station) before 5PM on August 4, election day.
*** If you are voting absentee because you have contracted or are "at-risk" for contracting or transmitting COVID-19 or are 65 or over you DO NOT need this ballot notarized, but other voters WILL need their mail-in ballot notarized.
---
Inclusion & Equity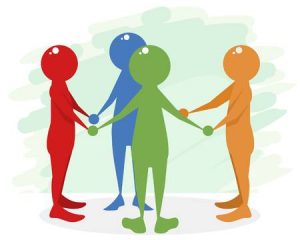 AAUW seeks to guarantee inclusiveness, equity, individual rights, and social justice for a diverse society. Click this link to learn more about our Missouri Inclusion & Equity Committee.
---
Women typically are paid 80 percent of what men are paid. Use AAUW's free Work Smart online workshop to learn how to ask for more.
---
JOIN US!
Visit and then join a branch to participate in the activities that are "breaking through barriers for women and girls!"

MESSAGE FROM THE PRESIDENT
I am honored to be your AAUW of Missouri President for the next two years. With the new national strategic plan rolled out August 1, 2018, and the August 20 announcement of the Missouri/Kansas Start Smart/Work Smart it looks like we will have a busy and exciting several years. We will continue to work on pay equity, get out the vote, leadership training, Title IX, and closing the gender gap.

AAUW Mission: To advance gender equity for women and girls through research, education, and advocacy.
AAUW Vision: Equity for all.
AAUW Values: Nonpartisan. Fact-based. Integrity. Inclusion and intersectionality.

When women vote we change the conversation. AAUW has a long history of holding legislators accountable for how they vote on AAUW priority issues. AAUW is nonpartisan. We do not support any candidate or party, but we do follow the issues important to women and girls and families. Click on the "advocate" tab for important information.

KANSAS CITY EVENT
Learn about the 10 extraordinary women inducted into the UMKC Starr Women's Hall of Fame on March 22: Bunni Copaken, Mary Tiera Farrow*, Laura Rollins Hockaday*, Mamie Currie Hughes, Patricia McIlrath*, Janet Murguía, Mona Lea Perry, Nell Quinlan (Donnelly) Reed*, Beth K. Smith*, and Linda Hood Talbott. Read about these outstanding honorees. Speakers at the event were to be Laura Bush and Barbara P. Bush.
NEWS ABOUT PAY EQUITY IN MISSOURI!
AAUW and the Women's Foundation are working together in Kansas City to train 1 million women in salary negotiation! Read the news release about the Work Smart program.
………………………………………………………………………….
AAUWMO supports NCCWSL (the National Conference  for College Women Student Leaders). Read a letter written by one of the 2017 attendees.
View/download newsletters from our branches on the branch locator page.
Download an issue of the state newsletter, Missouri in Motion.
Visit the Branches—Forms for branches pages to get applications and information for your branch to apply for grants and awards.
Visit our photo gallery to see a report and pictures of past conventions and events