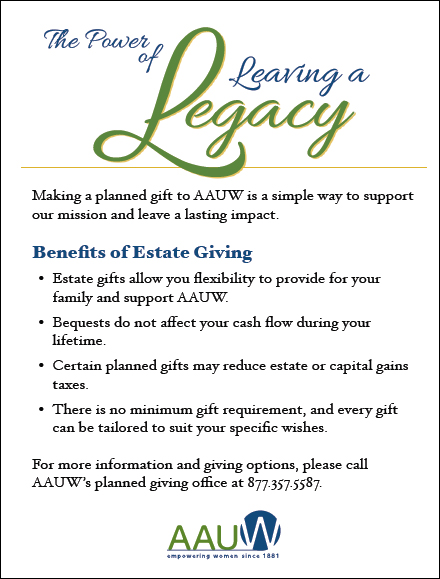 Frequently asked questions about the Legacy Circle.
Missouri's own Susan Barley is a member of the National Legacy Circle team.  She wants to help – email her now! barley702@gmail.com.
Find out more information about this gift that gives back at the National website.
Download a brochure.       Plan wisely—for today's needs and for tomorrow!
Download a fillable enrollment form for the Legacy Circle.
AAUW MISSOURI'S LEGACY CIRCLE MEMBERS
Susan B. Barley (Ballwin-Chesterfield and St. Louis Branches)
Lucy Barrington (Kirkwood–Webster Groves Branch)
Linda Berube (Kansas City Branch
Patricia H. Braley (Independence Branch)
Shirley Breeze (Ferguson-Florissant Branch)
Bette Bude (Ballwin-Chesterfield Branch)
Grace Butler (Columbia Branch)
Theresa A.  Ciccolella (Ballwin-Chesterfield Branch)
Jane Crigler (Kansas City Branch)
Erlaine Eltomi (Ballwin-Chesterfield Branch)
Karen Francis (Ballwin-Chesterfield and Ferguson-Florissant Branches)
Darlene Harris (Ballwin-Chesterfield Branch)
Nancy Hutchins (Kirkwood-Webster Groves and Ballwin-Chesterfield Branches)
Jayne A. Kasten (Ballwin-Chesterfield Branch)
Pam Kulp (St. Charles and Ballwin-Chesterfield Branches)
Diane B. Ludwig (Columbia Branch)
Jeanie Latz (National Member)
Yvonne Morrison (Ballwin-Chesterfield Branch)
Ardyce Pearson (Kansas City Branch)
Sue Shineman (Independence Branch)
A. Patricia Shores (Ballwin-Chesterfield Branch)
Joanie Shores (Kansas City Branch)
Karen Smith (Kansas City Branch)
Julia Triplett (Ballwin-Chesterfield Branch)
Jennifer Urish (Ballwin-Chesterfield Branch)
Jeannie Webdell (Kirkwood-Webster Groves and Ballwin-Chesterfield Branch)
Winnie Weinrich
Legacy Fulfilled:

 Geraldine Allen,

Jean Shull, Alyse Stoll